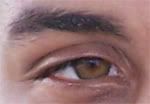 11/10/2005 12:53:00 PM
Illusions


Rae did sey...
that's very interesting. part of my research deals with pigments and colour. I'm very curious about why this happens.
~

bassChocolate did sey...
Amazing. I started to feel crazy as all the dots disappeared while I stared at the cross. And as conscious as I was of it, there was nothing I could do about it. Neat.
~

Bashmentbasses did sey...
Cool!!!!

Always love this kinda stuff. Everytime man get too big fi him britches, another one of these tests shows us that we have much to learn.
~